Group Benefits
Insurance and employee benefits for groups of two to 2,000 people
Group insurance and employee benefits for your organization

Arranging group insurance for your employees can be an overwhelming task. Not only does it represent a significant cost to your organization, but achieving the right mix of group benefits can play a critical role in:
The health and wellbeing of your employees (and their families)
Your organization's ability to attract and retain talent
As a result, you want to find and work with a group insurance professional you can trust, who gets the details right the first time.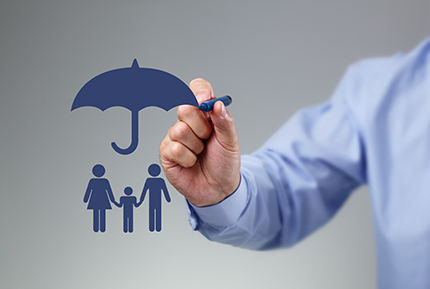 We take the stress away

As a business owner or HR rep, you have enough to worry about in the daily tasks of your own job. At Bennett Insurance, we keep things simple for you. We're experts in employee benefits and we've been assisting clients for nearly 40 years.
When you partner with Bennett Insurance, you get:
A wide range of group solutions and services to choose from
A customized plan to meet the unique needs of your group's size, age, salary and state of health—while suiting your company budget
Regular updates experience reports on the status of your plan
Client education, ensuring you have the knowledge you need to run the best possible plan for your group
Training and information sessions, to ensure your employees understand their coverage
Bennett Insurance specializes in:
Group life insurance
Basic life insurance
Pays a pre-specified amount to the beneficiary if an employee should pass away. Coverage is 24/7 and is applicable whether the death occurs at work, home, or elsewhere.
Optional life insurance
Allows employees to purchase additional life insurance coverage through the group benefit plan—above and beyond the basic life insurance amount.
Dependent life insurance
Supplements a portion of funeral and other immediate expenses if a spouse or dependent child dies.
Group disability insurance
Long-term disability (LTD)
An employee's greatest asset is their ability to earn an income. LTD helps diminish the financial impact of a long-term disability. Options include designing plans for diverse demographic segments; and/or setting up programs as taxable or tax-free at time of claim.
Short-term disability (STD) / Weekly Income
Pays a portion of an employee's income as they recover from illness or injury. Often, employers rely on government-funded benefits (e.g., Employment Insurance/EI) to cover their employees; however, these benefits can cap out, leaving a gap in coverage. STD can be used to replace a greater portion of lost wages due to disability.
Critical illness insurance
Protects employees while they are still alive. When an insured person is diagnosed with a covered critical condition and satisfies the survival period and pre-existing condition requirements, they will receive a lump-sum benefit to use as they wish. Their ability or inability to work is not part of the claim adjudication process.
Accidental death & dismemberment (AD&D) insurance
Pays a set benefit if the insured person dies or is dismembered in an accident. The benefit typically mirrors the group's life insurance coverage.
Group health insurance

Health insurance
Supplements provincial health care insurance. Coverage may include prescription drugs (i.e., drugs not covered by your provincial healthcare plan), paramedical services, semi-private or private hospital coverage, and travel coverage. Please note:
Prescription drug coverage works in concert with the requirements of provincial drug legislation.
Paramedical coverage may include treatments such as a chiropractor, physiotherapist, acupuncturist, registered dietician, massage therapist, and/or naturopath, etc.
By offering some flexibility when setting your drug plan type or paramedical plan maximum, as well as coinsurance and deductible, your business has more control over costs.
Dental insurance
Covering a range of needs—from basic dental care to major dental care, as well as orthodontics.
Vision care
Ranging from eye exams only, to coverage for eyeglasses, contact lenses and laser eye surgery.
Second-opinion services (Best Doctors)
Provides employees with a confidential second opinion on a condition or suspected condition. Cases are reviewed by leading medical experts in a specific field of illness.
Health benefits for foreign workers

Provincial health insurance replacement
Typically, non-Canadian (foreign) workers require provincial health insurance before joining an employee benefit plan. Bennett Insurance can help secure temporary provincial replacement coverage for those not eligible for provincial coverage.
Benefit plans for cross-border employees
Coverage options for businesses with interests and employees within and outside Canada—including but not limited to the United States.
Non-traditional health plans
Flexible benefit plans
Previously only available to larger firms, flexible benefit plans are now accessible to groups with a minimum of five employees. Employers can stabilize long-term costs through plan design, while allowing employees the flexibility to choose from several coverage options.
Health care spending (HCSA) accounts

"At Bennett Insurance, we keep things simple for you."
Accounts are funded by the employer to a specified maximum/cap, in which the employee claims against their annual allotment for any healthcare or dental care expense.Health care spending accounts can be added as a top up to existing benefit plans or as a standalone program. Standalone HCSAs represent a lower premium risk to the business because expenses are capped at the annual allotment, plus administration fees and taxes, multiplied by the number of employees. However, in the absence of a traditional employee benefit plan, standalone HCSAs can represent increased claim risk to employees if they are faced with large expenses beyond the allotment.
Cost Plus
A private health services plan. The employer pays for medical services for eligible employees and claims it as a tax-deductible business expense.
Choose your preferred accounting method
In addition to traditional methods for paying for group benefits, Bennett Insurance offers the following:
Administrative Services Only (ASO)
Employer funds group insurance, health and dental, vision and drugs. ASO plan costs are based on actual paid claims experience, rather than anticipated claims.
Retention/refund accounting
The step between being fully insured and ASO. Only applies to experience-rated benefits including health, drugs, dental, and vision care.
Benefits of Group Insurance

Simplify Your Plan
Greatly simplify the administrative portion of offering employees a benefits plan – allowing you to focus on all the other important parts of your job.
Wide Choice
Choose from a wide array of traditional and non-traditional plans to create the "right mix" that also works within your company budget.
Save Money
Help employees save money on health insurance, while taking advantage of tax savings for your business.